"Quality, is our company's lifeline and also where the customer confidence comes from". We believe that keeping long-term business relationships with customers relies not only on excellent services but also high-quality products. To ensuring providing high quality products to our customers, we strictly implement the ISO quality system. Our QC department operates according to related standards in the whole manufacturing process ranging from vendor appraisal, raw material inspection, production process inspections, final production inspection, to take perfect products. Currently, Hucais has been passed ISO5001, ISO 9001, ISO9002, ISO14001, OHSAS 18001; BS-OHSAS 18001, SA8000; SQP; BRC, G7, EICC, HACCP, and other related international certifications. As for material safety, Hucais has also obtained the ROHS and FSC certification. We aim to provide high quality packaging to all of our customers, help them to upgrade their brand through high quality packaging.




Hucais' Testing Center
To ensuring providing high quality products to our customers, Hucais also established testing center in November 2005. Hucais is the first printing & packaging enterprise that has national certified testing center in China. The center has been built into a laboratory with a good working environment, strong technical force, advanced and complete testing methods. It has 11 testing engineers, including 5 engineers with bachelor's degree and 6 engineers with junior college degree. All kinds of personnel can skillfully carry out various tests according to the requirements of the standard. The testing center has an area of more than 400 square meters, and the total assets of instruments are worth more than 1.5 million USD. The testing center can be used for incoming inspection, process monitoring, finished product within environment simulation, etc.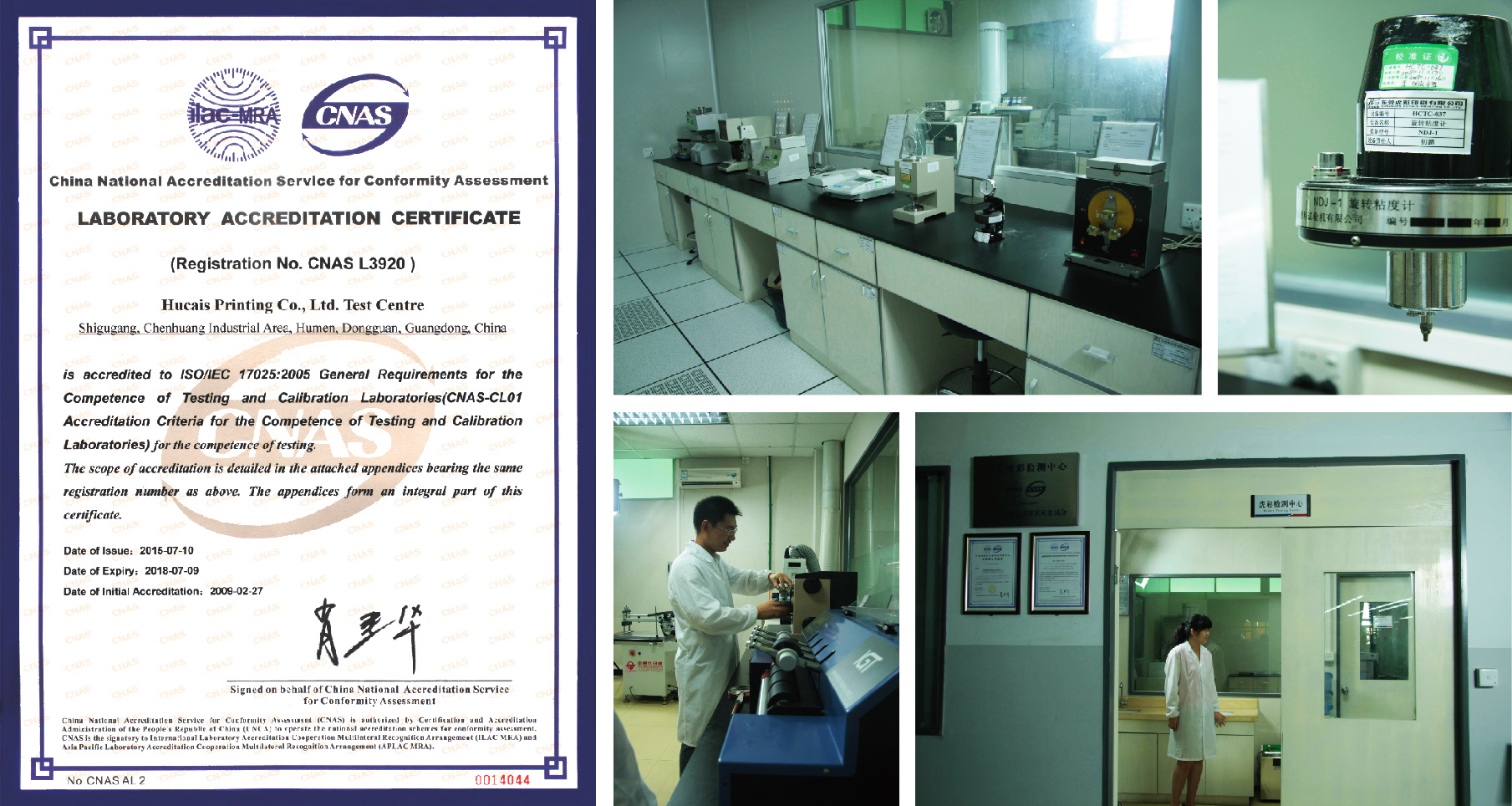 The Euipment of Hucais' Testing Center
In 2009, Hucais Testing Center passed the examination of China National Accreditation Committee for Conformity Assessment. After nearly 15 years of operation and continuous improvement, the laboratory has strong testing capabilities in the testing range of application and accreditation, and has compiled management system documents based on ISO / IEC 17025: 20005 and the actual situation of the center to ensure that complete all inspections in time with fairness and accuracy. Hucais Testing Center has advanced testing equipment such as GC-MS, GC, HPLC, IGT printability meter, infrared spectrometer, etc.

Quality

O

bjectives of Hucais' Testing Center
100% contract execution rate
100% implementation of standards, codes and regulations
100% accuracy of the main data and theory of the test report, other error rate less than 0.5%
100% acceptance and reply to customer complaints